Yes, I am so far behind on blogging several things. I see all the "drafts" but I have yet to find time to sit down and write them. I took 3 months off from my "day job", and after the Vegas trip which turned out to be quite costly AND sickly, I have thrown myself back into the fray of commuting along with the plebs at 9am then again around 6pm Monday through Friday. The first night in Vegas I felt like my left eyelid was extra tender when I was applying makeup. The tenderness got worse and worse, and finally I got an eye infection which blossomed into a full on, evil & painfully swollen stye on my left eye the morning after I performed on Sunday! That really ruined the rest of my trip I have to admit. I couldn't wear makeup or my power lashes, and my eye was so sensitive and sore I could not enjoy the sun by the pool. So awful.
Anyway so here are some things to look at until things get quieter here back in nyc in another week!
First:
Awesome coverage by Burlesque Beat
of Saturday night at Burlesque Hall of Fame. I love the way J.D. Oxblood writes the reviews. He sees a lot of burlesque nationally and internationally, and he won't hesitate to express his dislike of something either. Did I mention that I had to open Saturday night's show!? I was extremely nervous to say the least.
Photo by Melody Mudd for Burlesque Beat
Second:
Macao Trading Company
released the offical trailer for their annual "Drunken Dragon Festival" in which I host and perform in with other performers. This year we had Shien Lee and Night Fragrance band come sing a couple of classic Chinese hits from the 30s and 40s, and we also had Her Darkness, Nikki Le Villain with Izili, her albino python snake. People always ask me what this party is about, well, I wrote about it on
Asiance Magazine where I posted lots of photos.
Since Drunken Dragon is such a cultural tradition on the island of Macau, that is why we created my monthly show "Drunken Dragon Nights" which happens on random Mondays. You'll have to follow me on
Facebook
,
Twitter,
or
subscribe to my email newsletter
to find out when the party happens. It is always accompanied by a two-hour open bar before the burlesque performances. Here are some of my favorite photos from this month's show taken by Gabi Porter.
Me with Minx Arcana (my Macao stage kitten) who always get mistaken for me. See? We are two different people. She's taller. I'm shorter. We both have bangs though...Memory game, memory game!
This is always MY view when I do this show. I sit on the bar and act as OVERLORD. WA HAHA!
Third:
I experienced my first
"Midnight Brunch"
event last weekend. It is one of the hip underground foodie events created by Emily Cavalier. So it's a secret location every month when she does it, and the menu is usually a 4-5 course dinner with an all night open bar. This past weekend it was at a cool photo studio in Williamsburg, Brooklyn. I was told to look for a grafitti picture of a gorilla (or was it a monkey...? I don't know) and enter via the docking entrance. There were some COOL ass shit in this space. Lots of stuffed animals mounted on the wall. The event was totally sold out and by the time I arrived after my first show up at the Triad Theater, everyone was pretty stuffed on the amazing looking and beautifully plated food and drunk on Pam's handmade cocktails. Just in time for me to shake it for the diners! Now, my BIGGEST pet peeve about performing is when people do the "hand to ear" gesture to get applause. But for events like this where its NOT a show but an one-off entertainment bit amongst a sea of faces who do not seem like they knew how to react, I found myself doing the very gesture. And I have to say, it felt okay to me to do it in this context where the majority of people are not at a show and don't know whether to feel awkward or enjoy oogling me. So when I did the hand-to-ear, they all cheered and loosened up after that. Phew!
See the photo recap >
Photo by Clay Williams
Lastly: My weekly Friday show "Room 69" at Hotel Chantelle get an amazing photo gallery coverage by Time Out NY!
I am extra excited because I love every single picture from this set taken by Francine Daveta. Time Out say:

Burlesque is all about spectacle—but sometimes the most fun is had when
that spectacle is delivered in up-close-and-personal, and that's what Calamity Chang's
Room 69: The Hotel Chantelle Way is all about. Friday, June 22's
edition featured burly-Q contributions from an all-star cast that
included Stormy Leather, Dame Cuchifrita, Hazel Honeysuckle, Ruby
Valentine, Mr. Gorgeous and Nikki Le Villain; you can catch more stars
of the local scene every Friday night.
Here are some of my favs but you can
see the whole set here >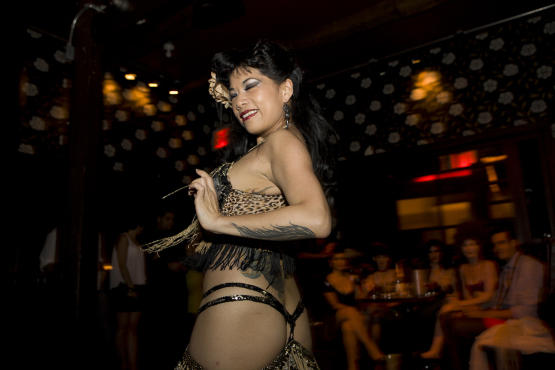 I LOVE this picture even though my bangs are sticking straight up. I had just done the "sexy hair thrown back" move.
So that's the roundup from the ranch, folks! Tomorrow night I'll be performing at
"Les Fleurs de Shanghai"
with Shien, Nikki Le Villain and the band at Duane Park. I'm excited to have my mom and aunt in attendance because of the Chinese music we do there!